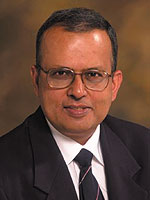 Amar Gupta

E-mail: agupta@pace.edu
Personal Website:
Click Here
School/College:
Seidenberg School of Computer Science and Information Systems
Primary Location:
1 Martine Ave 412
Office Phone:
+1-914-773-3750
Secondary Location: Goldstein Academic Center
Office Phone: +1-212-346-1810, +1-914-422-4515
CV: DOWNLOAD
Biography
Amar Gupta is Dean of Seidenberg School of Pace University with campuses in Manhattan, White Plains, and Pleasantville. He is currently involved in initiating four interdisciplinary initiatives, one of which relates to telehealth and looks at this emerging field from technical, business, legal, public policy, and other interdisciplinary perspectives. Dean Gupta is an interdisciplinary innovator performing breakthrough research, teaching a wide variety of subjects and collaborating with diverse organizations such as IBM and the United Nations.
Education
PhD, IIT, Delhi, 1980
Computer Science
MS, MIT, Cambridge, 1980
Management
BS, IIT, Kanpur, 1974
Electrical Engineering
Scheduled Courses
Fall 2015:
No courses scheduled.
View All Courses Taught
:
CIT 397: Topics: Int'l Tech Services
CS 490: Ind Study in Computer Science
CS 600: Indpndnt Study in Grad CS
Research Interests
Telemedicine/Telehealth Information Technology Knowledge-Based Systems Entrepreneurship
Awards and Honors
Eller College of Management at the University of Arizona, 2011 - Best Teacher Award
University of Arizona, 2007 - IBM Faculty Award
The Thomas R. Brown Family Foundation , 2007 - Thomas R. Brown Foundation Endowment Gift
MEDIA CONTRIBUTIONS
Wall Street Journal [Newspaper], October 20 2008
Prescription for Change (extended article and online podcast interview)
Wall Street Journal [Newspaper], September 15 2007
Expanding the 24 Hour Workplace
Sloan Management Review [Internet], 2002
The Critical Role of Trusted Agents, Volume 43, No. 4, pp. 94-95
Scientific American [Internet], December 1982
Personal Computers, Vol. 247, No. 6, pp. 88-99